Ask any "true believer" in 1961 who the Hulk is and his answer wouldn't have anything to do with gamma rays or purple shorts. Hulk was the cover name of a mind-controlling monster from Titan named Xemnu who first appeared in late 1960 and again in 1961 within the pages of the pre-Thor Journey Into Mystery (#62 & 66). Like the later  Hulk, Xemnu underwent an evolution of hues through the years; first a rust brown, then gray, and finally a snowy white which makes him resemble the abominable snowman from a Bugs Bunny cartoon. Despite his fur, he is apparently made out of metal.
In his debut, Xemnu is one of several inmates on a prison planet until he escapes on a supply ship. The spacecraft runs out of fuel and he is forced to crash-land on Earth. There his unconscious body is found in a swamp by an electrician, Joe Harper. Sure that he can revive Xemnu by repairing his robot parts, Joe brings Xemnu's body to his workshop. There he revives Xemnu through a process called electrolysis (I'm not making this up!). While recharging, Xemnu reveals that he is a convict and then uses his hypnosis rays to take control of Joe. After confirming that his hypnosis works on humans, Xemnu brings Joe out of his trance and reveals his plan to enthrall all humanity in order to build a new ship to take  him home. The force needed to launch the ship would cause a chain of geological events which would tear the Earth apart. Since Joe was the one who revived Xemnu, he is to be taken along and spared the fate of the rest of Earth. Xemnu enthralls the entire human race with his hypnosis rays, and has them design and construct a new spacecraft. Joe saves Earth by sabotaging the spacecraft. When Xemnu prepares to depart, two crossed wires cause a short-circuit which send him into a state of suspended animation. Harper then launches the spacecraft, sending Xemnu into orbit around the sun. Released from the effects of the hypnosis rays no one on Earth but Joe remembers that Xemnu once controlled the entire human race.
In Journey Into Mystery #66 Xemnu awakes to find himself hurtling towards the sun.  He uses his telekinesis to bank shot an asteroid off the rocket changing its course back towards Earth. Once he arrives he sets about hypnotizing the residents of a small town to build a mass hypnotizing device. When the electrician, Joe Harper from the first story, cannot detect Xemnu's rocket, he figures out the alien must be back on Earth and deduces his location from the blackout Xemnu has imposed on the town while his device is being built. When Joe confronts him, Xemnu pursues him to the top of an oil tower where he threatens to  "hypnotize your atoms to fall apart".  Joe outsmarts the metal furball once again by pulling out a mirror so Xemnu disintegrates himself.
Something as minor a not having a body anymore didn't keep Xemnu from returning in the pages of The Incredible Hulk, The Defenders and The Sensational She-Hulk.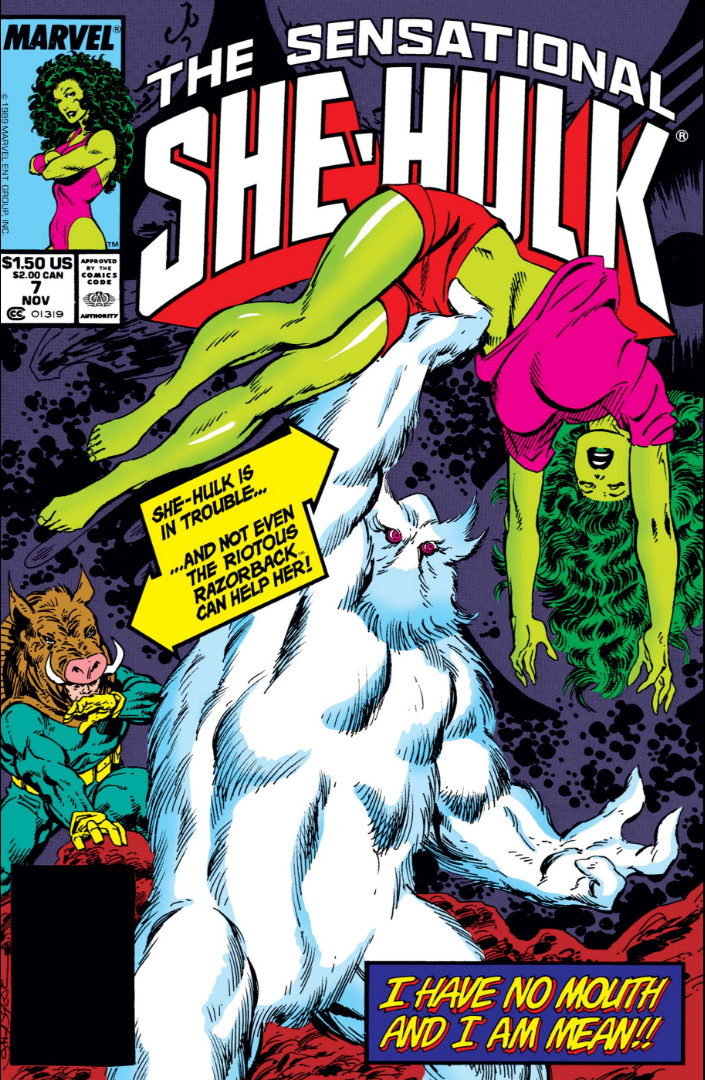 In the She-Hulk story entitled, "I Have No Mouth And I Am Mean!" Xemnu has taken to kidnapping pregnant women so he can take over the mailable minds of unborn children (apparently the whole enthralling thing gets harder with each appearance).  Even Xemnu must have smelled the stink on this latest plan and soon abandoned it for Plan B: Transform She-Hulk into The Bride of Xemnu! She-Hulk and her friends thwart this plan and decide to turn the defeated Xemnu over to a teddy bear loving alien called Big Enilwen who promises to "hug him and hold him and love him forever!"
You may remember how Fin Fang Foom had also become satiric fodder for the chuckleheads at Marvel. May the ghost of Jack Kirby haunt them forever…