Inside dozens of comic books in 1961 could be found the following advertisement: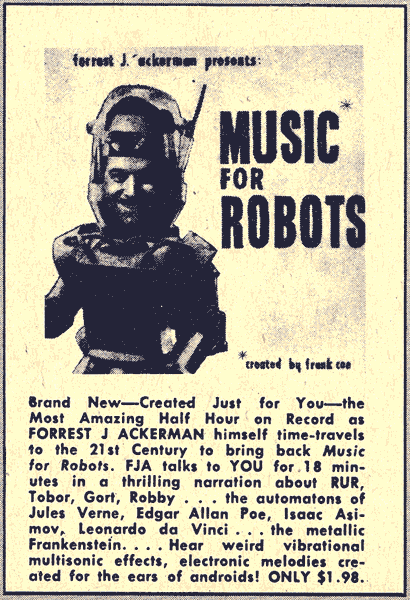 "Brand New – Created Just for You – the Most Amazing Half Hour on Record as FORREST J ACKERMAN himself time-travels to the 21st Century to bring back Music for Robots.  FJA talks to YOU for 18 minutes in a thrilling narration about RUR, Tobor, Gort, Robby…the automatons of Jules Verne, Edgar Allan Poe, Isaac Asimov, Leonardo da Vinci…the metalic Frankenstein…Hear weird vibrational multisonic effects, electronic melodies created for the ears of androids! ONLY $1.98″
From all accounts the Ackerman narration on side one was the selling point of this LP. Side two is made up of a fifteen minute composition by a man named Frank Coe. I'm pretty sure this Frank Coe wasn't the same one who rode with Billy the Kid in the 1880s, but there is the slight possibility that he was the same Frank Coe who is notable for being the first disgraced director of the IMF (for being "commie", not "rapey") in 1952.
Have a listen to Coe's Tone Tales of Tomorrow and then as an extra treat I offer the first song ever sung by a computer (the versatile IBM 7094).
 Daisy, Daisy
Give me your answer do!
I'm half crazy,
All for the love of you!
It won't be a stylish marriage,
I can't afford a carriage
But you'll look sweet upon the seat
Of a bicycle made for two.